A film star is born
Columbia's movie school rivals NYU's

From Crain's New York Business
December 11-17, 2000
by Mirian Kreinin Souccar
When Joan Stein won the 27th Annual Student Academy Award for best narrative film last summer, people took notice of more than a moving film about the plight of Jews during the war.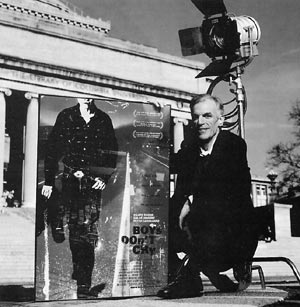 Columbia University Film Division Co-Chair Dan Klienman is a big supporter of 1918 - the film.

The award also cast her alma mater, the Columbia University School of the Arts Film Division, in a new and rosy light - marking as it did the third time in the last four years that the school had produced a Student Academy Award winner.

"Our time has come," says Bruce Ferguson, dean of Columbia's School of the Arts, "The kinds of awards we've been receiving are a major sign of our presence in the film world."

After years of laboring in the long shadow of its world-renowned downtown competitor, the film department of New York University's Tisch School of the Arts, Columbia has suddenly emerged on center stage. With a recent slew of awards from not just the Academy, but the prestigious Directors Guild as well, and with a growing roster of successful alumni, Columbia is clearly on a roll. These days, it is attracting not just more talented students and staff - including Dan Klienman, who was hired away from NYU four years ago and was recently named chairman of the film school - but more funding, too.

"Columbia's film program has definitely gotten more visible," says a spokeswoman for Lifetime Entertainment in New York. "It is now mentioned in the same breath as NYU."

Many say that the buzz began with a pair of exceptionally talented students: Kimberly Peirce and James Mangold. It was Ms. Peirce's 1996 graduate thesis project that became the basis of this year's Oscar-winning Boys Don't Cry. This was also the year that Mr. Mangold, class of 1999, won raves for his direction of the Oscar-winning movie Girl, Interrupted.

Spikes of its own

"A film school's reputation comes from what its graduates are doing," Ms. Stein says. "It used to be Spike Lee and others who had graduated from NYU. Now, its Columbia that has all these great alumni."

It is also increasingly evident that it has a terrific crop of alumni-to-be. This year, Columbia students took top honors in three out of four categories in the Directors Guild of America's annual East Coast student filmmakers awards. Just two years earlier, Columbia had become the first university in history to win all four of the DGAs prize categories.

"There's a higher and higher profile to the graduates from Columbia, and that's how you tend to judge (a school)," says Michael Lynne, president and chief operating officer of New Line Cinema, a film distribution and production house in New York.

Columbia officials trace the basis for its success back to a key decision five years ago to spend money to greatly enhance its production capabilities.

"We were an outstanding screenwriting department, with relatively little production," says Mr. Kleinman. To beef up production, the school added seven complete camera packages—including 35mm film cameras, lights and sound equipment - bringing the total to nine. It also added no fewer than 25 digital video cameras and, more important, two full-time directing professors.

Now that its students are actually able to make and show the movies that they have long been writing screenplays for, Columbia's strengths have at last burst into plain view.

"People are now recognizing just how good we are," Mr. Kleinman says.



Grudging respect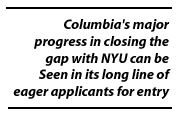 Today, even Columbia's august downtown rival has to acknowledge the school's progress. "We still are stronger on the production end, but they're looking to even that out substantially," says Bill Reilly, professor of film and television in NYUs graduate film program.

Proof of Columbia's progress in closing the gap can be seen in the long line of applicants eager to get in. In 2000, nearly 500 people applied for the program's 90 slots, up from 480 the previous year and 420 in 1998. NYU receives about 700 applications each year for about 40 slots in its graduate film program.

One of Mr. Kleinman's plans as chairman is to challenge NYU head-on by expanding the department's cinematography offerings and its editing capability, both areas in which NYU excels. With the help of two grants from the university totaling $1 million, Columbia's School of the Arts recently built a new digital media center, where film students have round-the-clock access to 24 digital editing machines.


Outsiders are also contributing to Columbia's ambitious plans. Erica Marks, director of development for Columbia's School of the Arts, says contributions have grown substantially. For the fiscal year 2000, $765,000 was raised for the film division, up 56% from the previous year. For the first four months of this fiscal year, $370,000 already has been raised.

The next item on the film departments wish list is a brand-new facility. Columbia recently gave the School of the Arts the green light to hire an architect to conduct a feasibility study for renovating and expanding Prentis Hall, a building on West 125th Street. The film division would get a portion of the building for a new screening room and soundstage.

Mr. Ferguson says the university is increasingly recognizing the arts as a priority. "Our film program is different in that it mixes producing, directing and screenwriting together," he says. "More recently, the industry has been paying more attention to those kinds of students who graduate who have multiple skills."

It is also paying more attention to the schools that turn them out.
---
Recent Student Academy Awards
First Prize - Narrative / Dramatic category
2004 was the 31st Student Academy Awards
| | | | |
| --- | --- | --- | --- |
| Year | Filmmaker | Film Title | Graduate Film Program |
| 2004 | Randall Dottin | A-Alike | Columbia U. |
| 2003 | Patricia Riggen | La Milpa (The Cornfield) | Columbia U. |
| 2002 | Jessica Sharzer | The Wormhole | NYU |
| 2001 | David Kartch | Zen and the Art of Landscaping | Columbia U. |
| 2000 | Joan L. Stein | One Day Crossing | Columbia U. |
| 1999 | Marni Banack & JB Sugar | John | AFI |
| 1998 | Bill Platt | Bleach | NYU |
| 1997 | Mark Millhone | Christmas in New York | Columbia U. |